The Astral is a huge rose-colored old pile of an apart­ment building in the gentrifying neighborhood of Greenpoint, Brooklyn. For decades it was the happy home (or so he thought) of the poet Harry Quirk and his wife, Luz, a nurse, and of their two children: Karina, now a fer­vent freegan, and Hector, now in the clutches of a cultish Christian community. But Luz has found (and destroyed) some poems of Harry's that ignite her long-simmering sus­picions of infidelity, and he's been summarily kicked out. He now has to reckon with the consequence of his literary, marital, financial, and parental failures (and perhaps oth­ers) and find his way forward—and back into Luz's good graces.
Available in hardcover and as an ebook.
Available in paperback on June 12, 2012.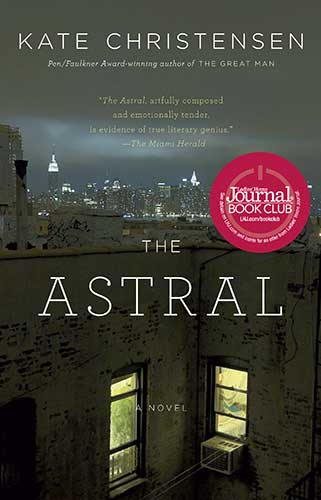 Engaging…wonderfully drawn.  It's worth noting that Christensen has somehow — again — created a captivatingly believable male narrator, although she can't see 60 on the horizon, has not been married to a tempestuous Mexican woman for 30 years or published largely ignored poetry in academic journals. (Her previous novel, The Great Man, won the PEN/Faulkner Award.) And yet here she is doing what talented novelists do: creating a voice so rich with the peculiar timbre of lived experience that you feel as though she's introduced you to a witty, deeply frustrated (and frustrating) new friend.
[Christensen's] characters' ruminations on how the forces of love and deception work in tandem within a relationship are both searing and concise. . . . [She] is a forceful writer whose talent is all over the page. Her prose is visceral and poetic, like being bludgeoned with an exquisitely painted sledgehammer. She is a portrait artist, drawing in miniature, capturing the light within