That the greatly admired novelist Kate Christensen has turned to the memoir form after six novels makes this book an event. Readers of memoirs of high literary quality, particularly those with food themes—most conspicuously Ruth Reichl's Comfort Me with Apples and Gabrielle Hamilton's Blood, Bones, and Butter—as well as admirers of M. F. K. Fisher and Laurie Colwin will be a large and eager audience.
This memoir derives from Kate's popular foodcentric blog, in which she shares scenes from an unusual upbringing and an unusually happy present-day life, providing an audience for this book that is already primed. That it is written by Kate Christensen means it will be a delicious reading experience in every sense—a compulsively readable account of a knockabout life, full of sorrows and pleasures, many of the latter of the sensual, appetitive variety.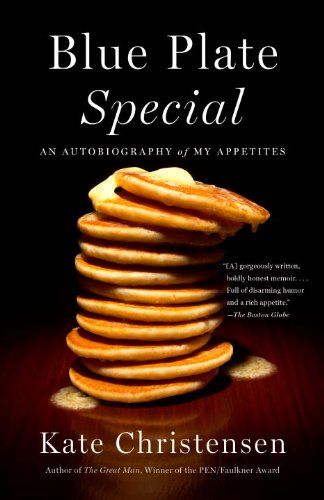 I've often thought that eating, writing and living well required similar qualities: creativity, daring, the ability to savor the good stuff and learn from the bad. Blue Plate Special is the memoir of an utterly original thinker, a free-spirited gourmand, and a great American writer. It's an expert guide on inspiration, ingenuity, heartbreak, buoyancy, home, love, family, screwing up, bouncing back and perfecting the bacon-cheddar biscuit.
Kate Christensen's prose has always been dazzling and brilliant even as it amuses and entertains. In Blue Plate Special, she applies her formidable talent to a memoir about the role of food in her (not always easy or kosher) past and present. The result is a glorious feast of meals, prose, and life from one of our finest writers today—a banquet of a book about eating, loving, and overcoming, to be devoured as fast as one's fingers can turn the pages.